Your hairdresser on Ibiza!
Hello beautiful souls!
My name is Kristina. I am originally from Bulgaria and moved to Germany when I was 18. A few years later I moved to the Netherlands, where I lived in Amsterdam for 15 years with pleasure. There I worked as a hairstylist at a reputable salon in the heart of Oud Zuid.
For two years I have been living on Ibiza, where I have developed multiple passions. Yet I still cannot say goodbye to my love for hairdressing. That's why I decided to continue with my trade here on this magical island, as creativity and making people happy are one of my passions. If you would like to make an appointment with me, feel free to send me a message via WhatsApp.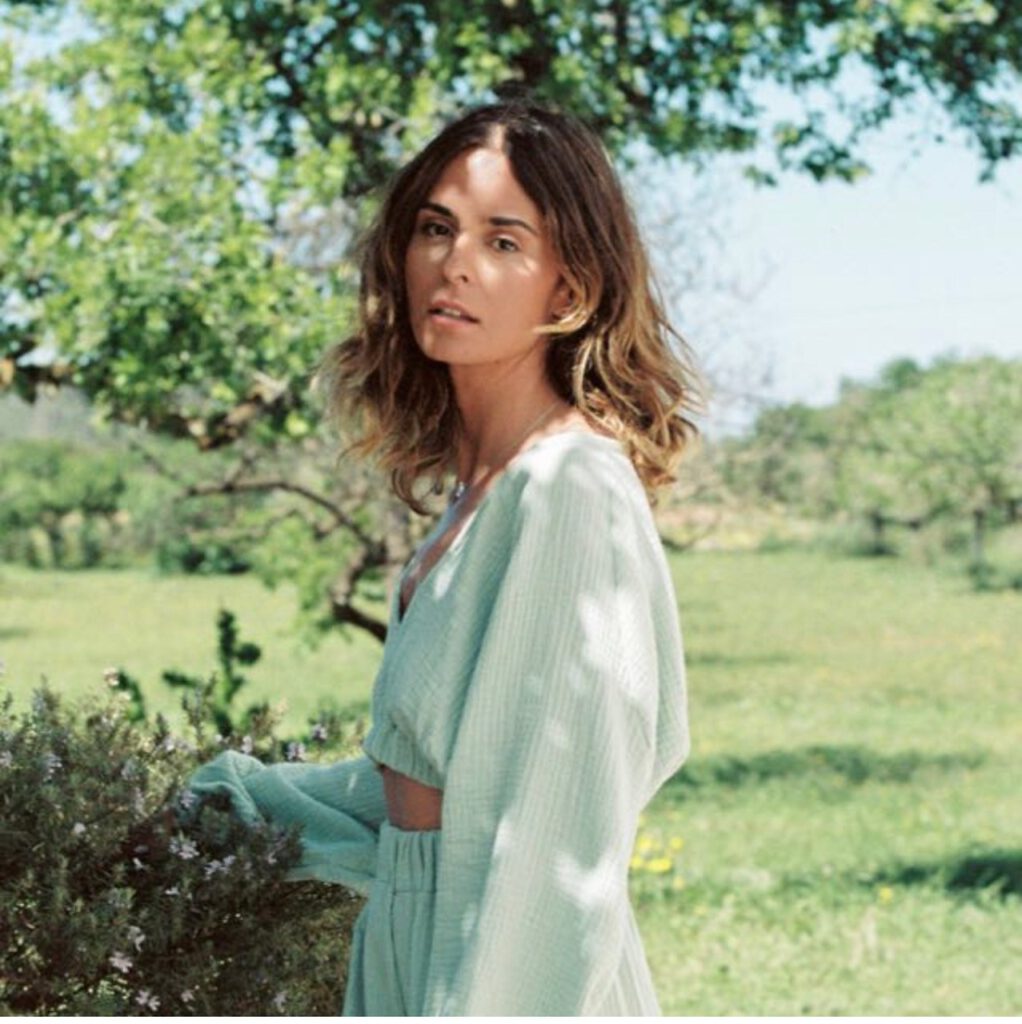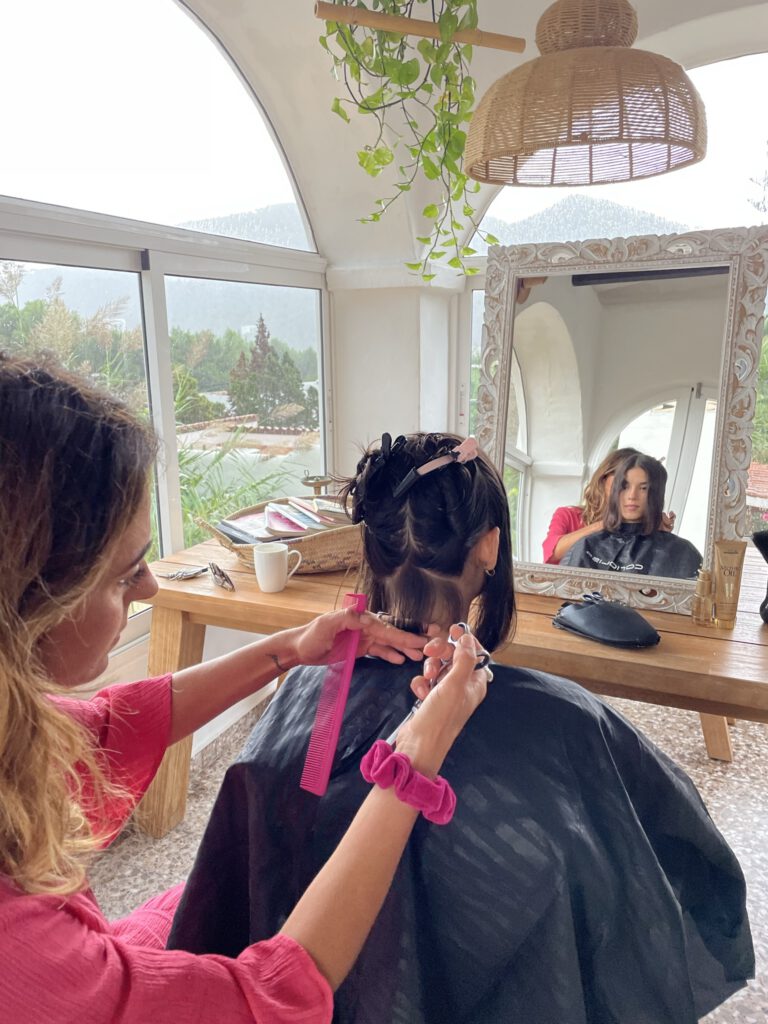 What you can expect from me
I can come to you or you can come to my salon in Cala Llonga, Ibiza. I speak English, Dutch, Bulgarian and German. Send me a WhatsApp for an appointment.
Personal attention is central to me. I always try to make you feel comfortable right away. I listen to your wishes, look at your personality and the possibilities of your hair. Based on that, I give you an honest advice and always try to make sure you leave even happier with your ideal personal hairstyle.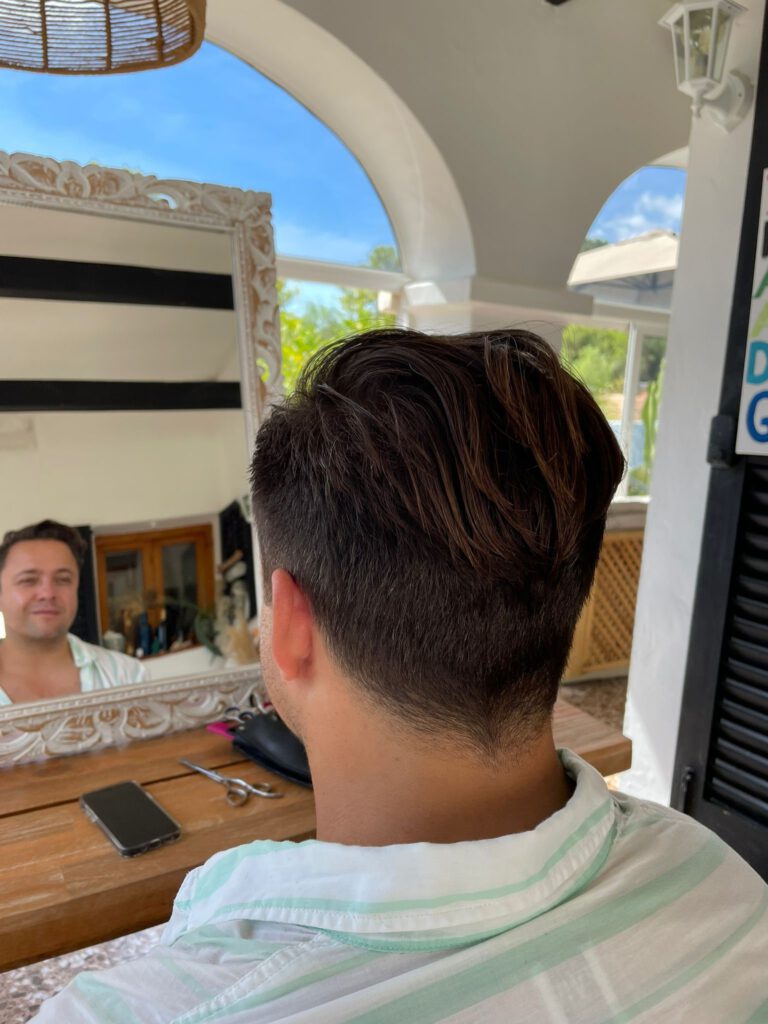 Cutting
Let's make your hair beautiful!
Your personal style, facial shape, and the possibilities of your hair are guiding when choosing the right hairstyle that suits you best. Of course, I will discuss your wishes with you and give you advice. I master several cutting techniques to create the best hairstyle for you. You can come to me for women's and men's haircuts.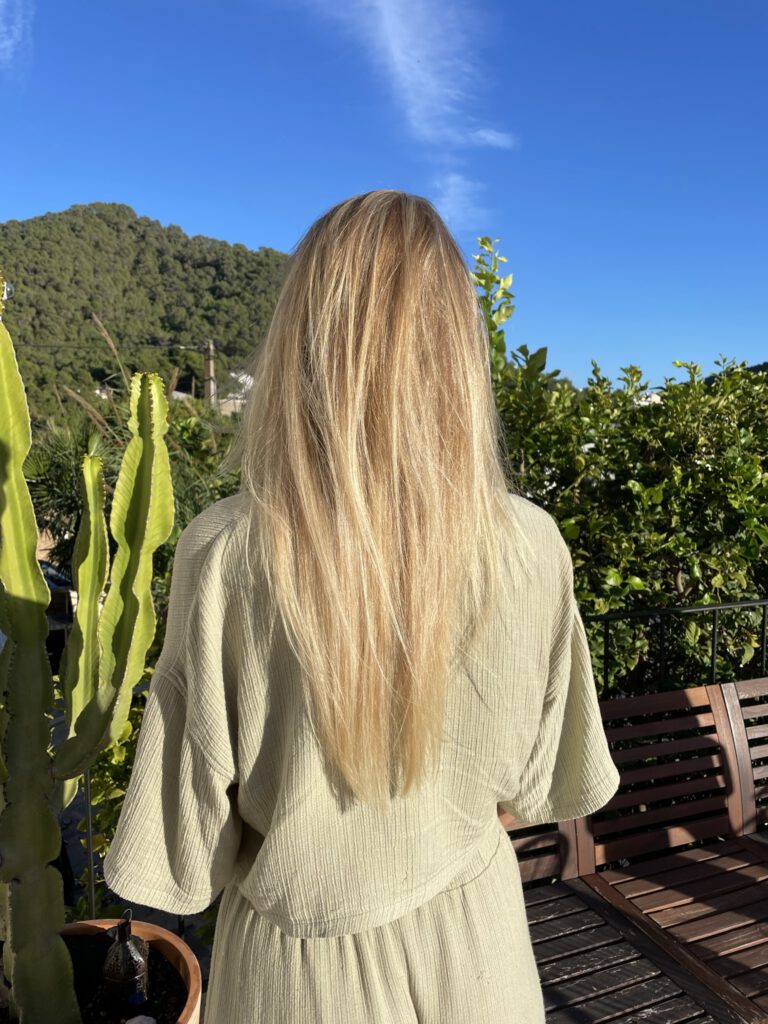 Coloring
Let's make your color shine!
Do you want to refresh your hair color or have a complete make-over? You can do all of that with me. For every color treatment for a new customer, I first plan a free advice session. I will discuss your wish with you and look together at the possibilities. To create the best color recipe that suits your hair type and personality, I will plan a follow-up appointment for your color treatment.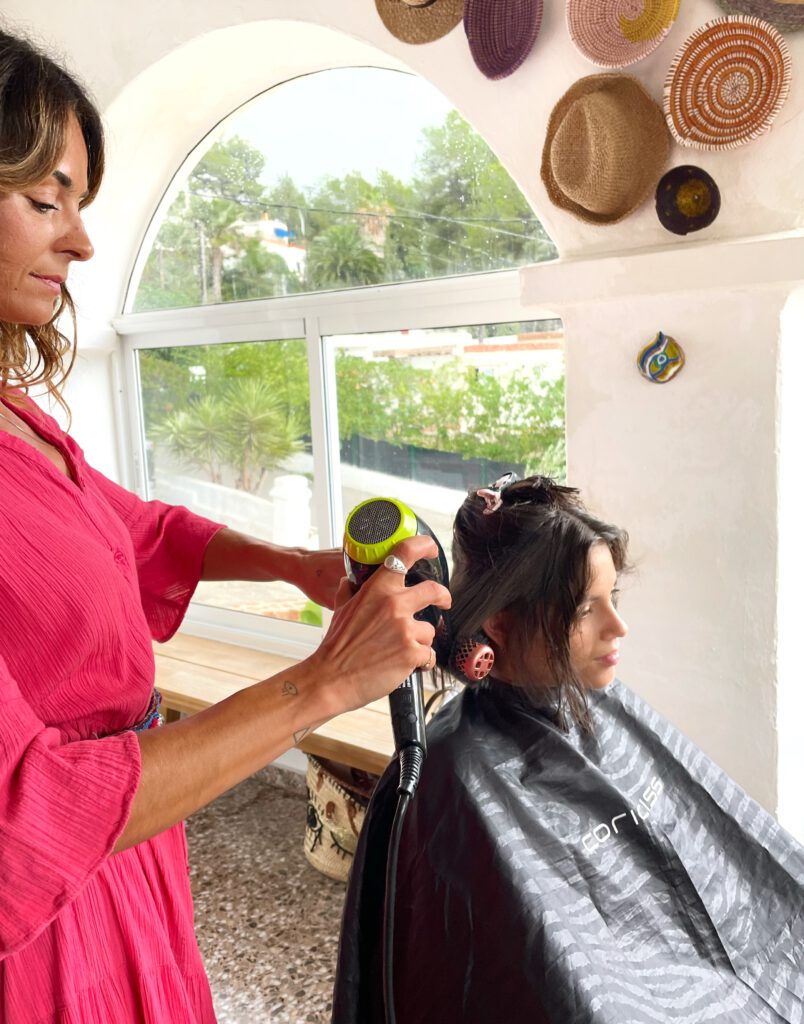 Blow-Drying
Let's add some extra volume!
A party, a dinner, or just don't feel like doing your hair? I'm here for you. With my many years of experience in photo shoots and fashion shows, I can make sure that you leave with happy hair and can enjoy your day or evening.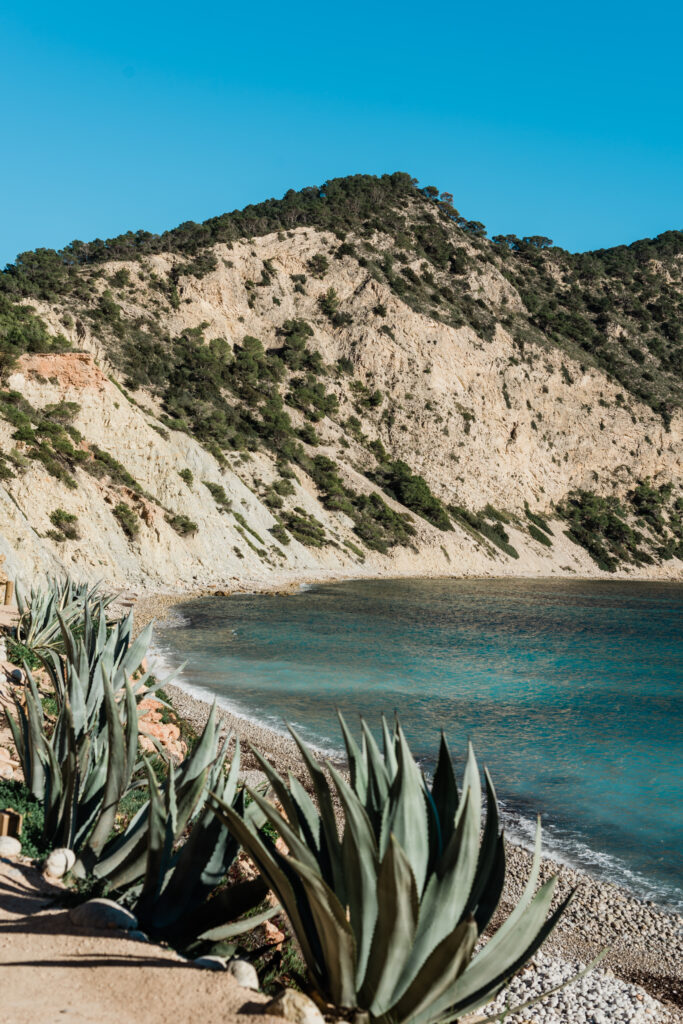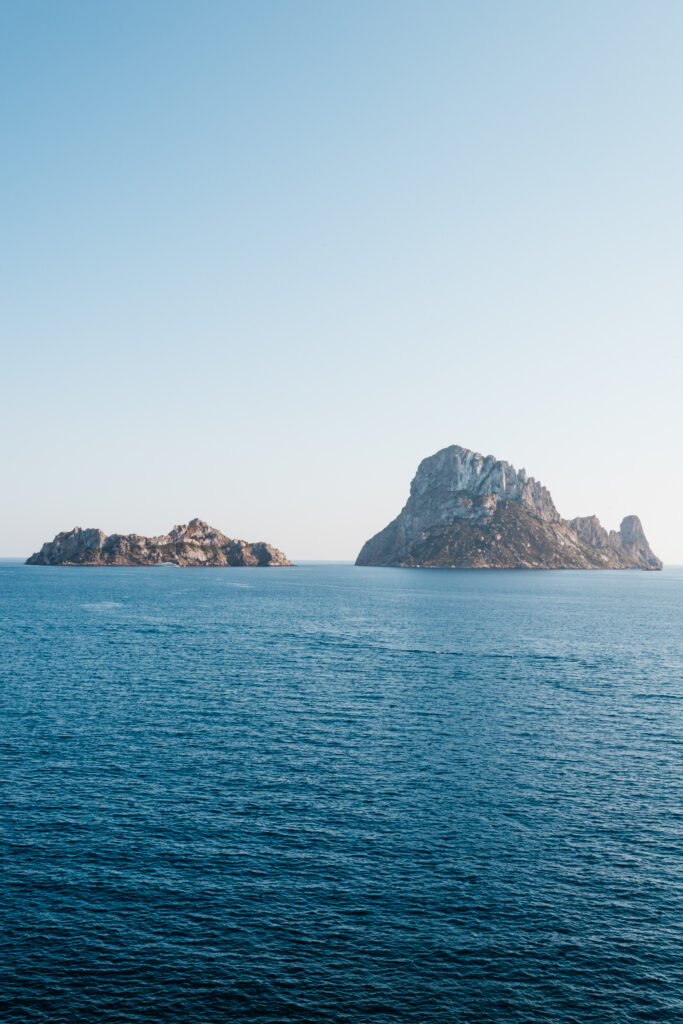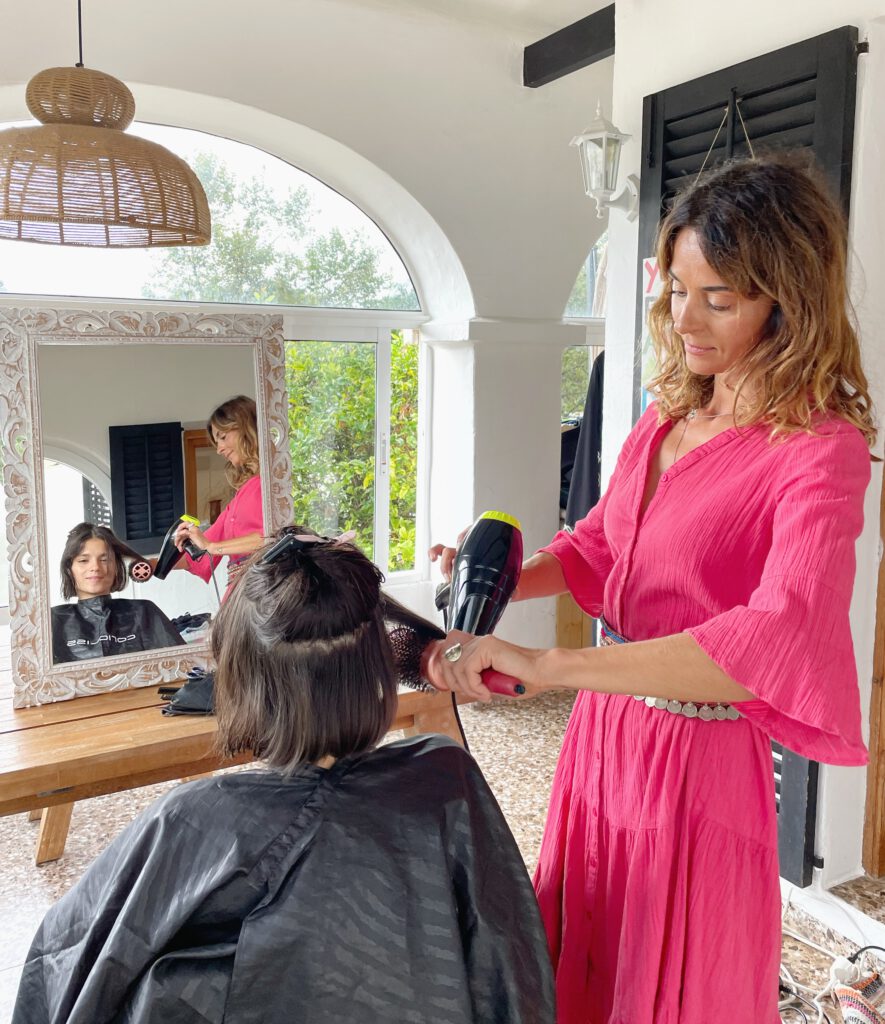 Ibiza & The Perfect Look
Ibiza & The Perfect Look Ibiza is a beautiful island and you want to feel beautiful too! A visit to my salon will definitely help you with that.
Are you looking for an experienced stylist who listens to your hair desires, honestly advises you on the possibilities for your hair, and where you can speak English? Then I am your hairdresser on Ibiza.
I cut with passion
Whether you live on Ibiza or are on vacation, I cut everyone with passion. I have a lot of experience cutting, coloring and styling men's and women's hair. I love to create a beautiful haircut together with you. For an appointment, feel free to send me a message via WhatsApp.
Ladies and Gentlemen cutting
Coloring (high-lights, low-lights, balayage and more)
Hairstyles for Photoshoots
I look forward to meeting you!
Greetings Kristina (your hairdresser on Ibiza!)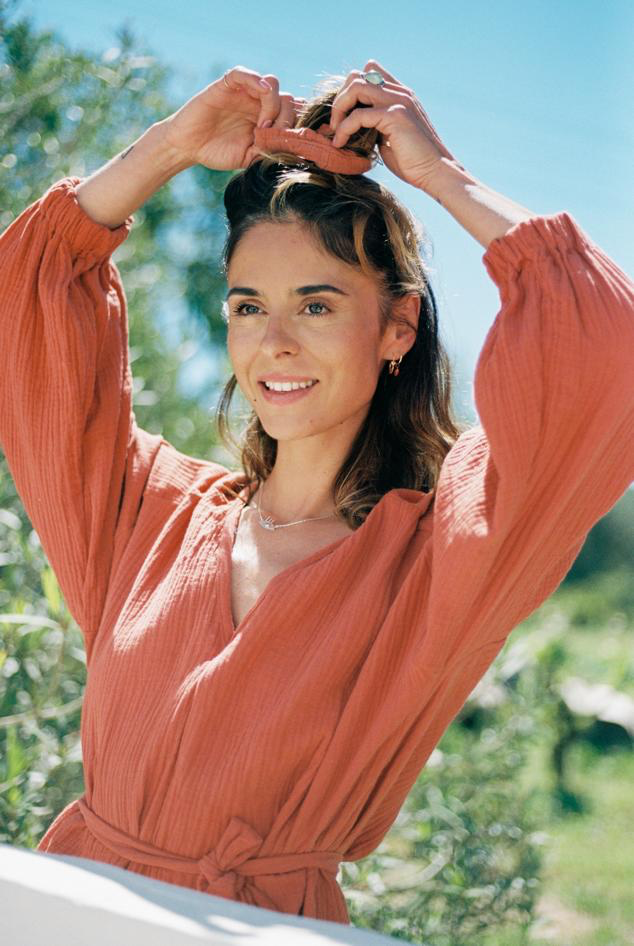 What people say about me
I am super happy that I found Kristina, she cuts my hair so that it fits immediately and I don't have to do anything about it

Michiel
CUSTOMER
Best employee I've ever had. Cuts what you ask for. Best hairdresser ever. Miss her, every day but richness for Ibiza.

Boyd Hairstyling
Ex manager
Awesome vacation and perfectly cut by Kristina. Now I have to go on vacation to Ibiza more often!

Jacqui
CUSTOMER
Experience the real Ibiza. I have the best tips.
During the styling and cutting of your hair, I love to share my tips on the most beautiful beaches, the best restaurants, the nicest markets, and parties on Ibiza. This way, you will not only have a beautiful hairstyle but also discover Ibiza like a local after a visit to my hair salon (or I can come to you)!